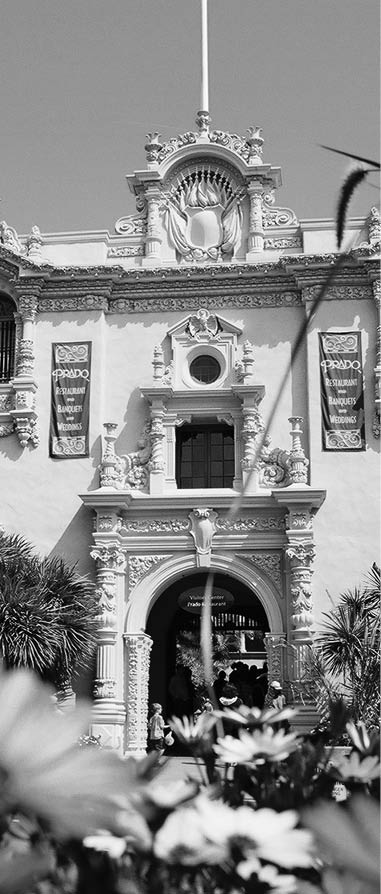 ABOUT THE PRADO
The Prado at Balboa Park is a National Historic Landmark which was originally built for the 1915-16 Panama-California Exposition. This two year festival was held in Balboa Park to promote San Diego and to celebrate the 1914 opening of the Panama Canal.
In 2000, The House of Hospitality reopened after a complete reconstruction and modernization. The 3-year renovation restored the building's architecture, artwork, sculptures, alcoves, gardens and fountains. Every effort was made to historically renovate the House of Hospitality in keeping with its original Spanish, Moorish and Mexican architectural design. This is evident in over two dozen, original, hand-painted, wooden stencil designs on doors as well as the intricate hand stenciled ceilings and beams. The Donal Hord sculpture, "Women of Tehuantepec" still remains in the fountain of the building's restored central courtyard.
The renovated House of Hospitality features lush historical gardens and a courtyard, elegant banquet rooms, romantic terraces and the outdoor grandeur of the historic Casa Del Rey Moro Gardens. The Prado at Balboa Park offers more than 22,000 square feet of indoor and outdoor event space and can accommodate groups of 20-20,000 guests.
Here's what others are saying:
Our wedding was perfect from beginning to end, don't change a thing."

- Erin & Robert
The Prado's atmosphere, food, staff & service was amazing. So many people have commented that it was the nicest wedding they have ever been to. WOW! What an amazing compliment about my special day.

Tiffany & Dan
Thank you, thank you, thank you. The Prado created a memory that will last a lifetime, not only for my family, but for those that experienced the joyous day.

—Matilda, Mother of the Bride
We would do it all over again exactly the same way.

-Natalie & Mike
We chose the perfect place to celebrate our 13 years of LOVE.

- Diana & Danny
Your staff is by far the most helpful and friendly group of people that I have ever had the pleasure of working with… trust me when I say, I have thrown many events and no one can touch the professionalism and availability that your staff possesses… Amazing.

- Donna, Mother of the Bride
Thank you and The Prado staff for a memorable 5-Star service in planning and executing our wedding rehearsal dinner. The synchronized service and food were excellent!

- Chery & Neal, Parents of the Groom
Gold Medallion Award 2009/2011 | Best Modern American Fine Dining
Top 100 Restaurant 2011 | LocalEats
Best Fine Dining 2010 | San Diego Uptown News
Caterer of the Year Award 2009 | NACE San Diego Chapter
The Best in Weddings 2008/2009/2010/2012 | The Knot Wedding Network
Gold Medallion 2006/2007 | Best Casual Continental
Best Romantic Restaurant 2006/2007 | SignOn SD Readers Poll
Best Outdoor Dining 2005/2007 | SD Home & Garden Mag
Best Restaurant in a Historic Building 2006 | 944 Magazine
Best Décor 2005/2006 | SD Home and Garden Magazine
Best of the Best (Moderate) 2005 | San Diego Magazine
Chef of the Year 2005 | Jeff Thurston
Gold Medallion Award 2005 | Best Continental Casual Dining
Gold Medallion Award 2004 | Best Casual Dining
America's Best Restaurants Award | Gourmet Magazine
Gold Medallion Award 2000 | Best New Restaurant
Best New Restaurant 2000 | San Diego Magazine
"Four Stars" | California Restaurant Writer's Association
Silver Fork Award | San Diego Home and Garden Magazine
Confirmation of Space and Settlement
Reservations are considered definite upon receipt of the signed contract and initial non-refundable deposit. A second non-refundable deposit may be requested and due as indicated on the contract. The remaining estimated total cost of the event will be due three (3) business days prior to the event in the form of cash, certified check, or approved credit card.
Ceremony Site
Wedding ceremonies are performed in the Casa del Rey Moro Garden Terrace. The site fee includes white padded chairs, gift and guest book tables, outdoor sound system, and private party signs are included. A dressing area, rehearsal time and a weather back-up location are also provided. Wedding ceremonies are scheduled at 11:00AM, 4:00PM and 6:00PM for a duration of no more than 45 minutes. The Ceremony site is provided as an option along with your reception at the Prado.
Wedding Receptions
Wedding receptions are based on a five hour lunch and six hour dinner duration, including the ceremony time. Any event extending beyond these hours will incur an hourly labor charge. For the Alhambra and Loggia Rooms the charge is $350.00 per hour and the Ballroom is $500.00 per additional hour. Music in the banquet rooms may continue until 1:00AM.
Food and Beverage Minimum Expenditures
The Prado offers spectacular unique venues. Your Catering Sales Manager will assist you in selecting the perfect location for your Wedding Reception based upon your expected guest attendance and event details. Food and Beverage minimum expenditures will vary according to the specific venue and event time. All food and beverage, with the exception of the wedding cake included in the package, will be provided by The Prado. There will be a cake service fee of $3.00 per person (exclusive of service charge and sales tax) for wedding cakes provided by another licensed bakery. Should you decide to offer a choice of up to three pre-selected entrees, including a vegetarian entree for your guests, the higher price of the selected entrees will prevail as the price per person for all guests in attendance.
Service Charge and Sales Tax
All food, beverage and rental prices are subject to taxable service charge and applicable sales tax. Please note that the service charge is taxable based on California State Regulation 1603(f).
Wedding Coordination
To ensure a flawless, event, The Prado encourages utilizing a professional Wedding Coordinator. While our Catering Sales Manager will assist you in the planning of your food and beverage, many brides choose to hire a Wedding Coordinator to assist with the many intricate details associated with the wedding planning, ceremony rehearsal and reception. It would be our pleasure to provide a list of Wedding Coordinators to you.
Guest Parking
With over 3,000 parking spaces, all parking lots in Balboa Park are available for guest parking at no cost. Valet services can be arranged for your evening reception. Please contact your Catering Sales Manager for details.